OK, Found the pictures so here goes, the basic tap as supplied to a thermopot is not particularly brewing friendly, but is better than that supplied on a standard catering urn/boiler. Luckily there is a simple replacement, just pop to screwfix and get yourself a for a fiver, and a a quid! . . . Of course a local plumbers merchant will probably be cheaper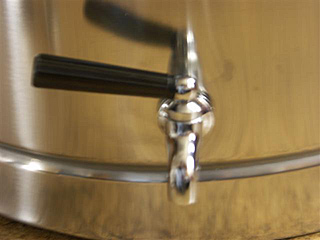 The tap is simply held on with a brass nut.
So undo the nut, remove it and also the cup washer which holds a silicone washer (keep the cup washer and silicone O ring you'll need them later)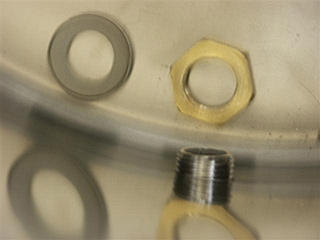 Pull the tap out, and with a pair of mole grips dismantle the tap by unscrewing the nipple on the back of the tap. Keep the washer on the back of the nipple
It's pretty grotty in there, but it cleans up well with a hot soak in an acid (citric or acetic)
Apply PTFE tape to the end of the tap that will be on the inside, remember you need to rotate the handle . . . No I didn't the first time either
, and screw on the nipple. Handy that the 15mm thread and the 1/2" on the nipple are compatible with a bit of PTFE Tape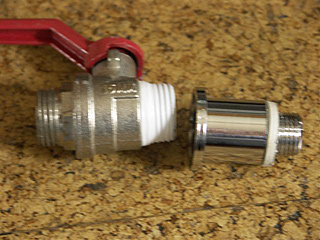 And simply refit the ball valve, either as a reverse of the dismantling, i.e. cup washer and Brass Half nut, or if you want to attach things to the back of the tap, then use the cup washer and the brass bush, which will give you a 1/2" BSPP thread to attach fittings to.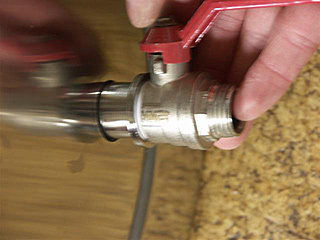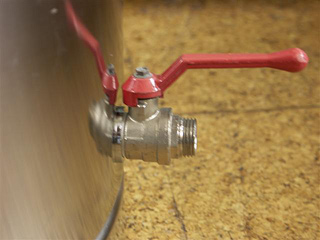 Half Inch Tap Connectors are particularly useful for attaching to the brass bush
Either Straight or bent