Was bored yesterday so made this
First take a couple of circles of 6mm copper tube, solder the ends together to make circles, then flatten them to give a couple of flat discs through which you drill a bunch of 3mm holes through both discs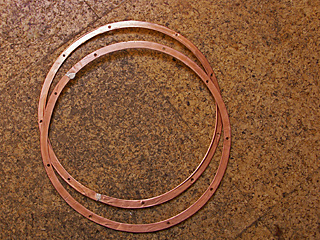 Take a couple of pieces of #30 Stainless mesh and cut a couple of discs from it that are about 1cm bigger than the copper discs. You can see I have a 'dimple' in one of the discs, that I made to fit the 3" bottom drain in the NanoCopper. By putting the mesh in the copper and pushing a whisky bottle tube of the appropriate diameter into it . . . If you don't have an appropriately sized single malt tin . .. go and buy one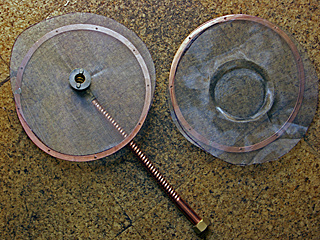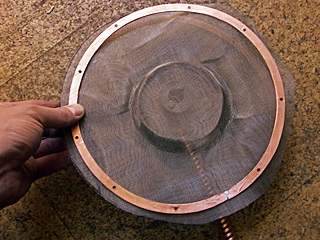 In the top piece I found the centre, by folding it in half twice, then cut a cross in the middle so that a standard 15mm tank connector would fit. I reversed the Flange nut of the tank connector and used that as a sealing surface for the 12" Female right angled 15mm compression fitting to fit the easy bend copper tube into. . . . Using the flange nut I can adjust the height of the pick up and put the tank connector right to the bottom of the well if required.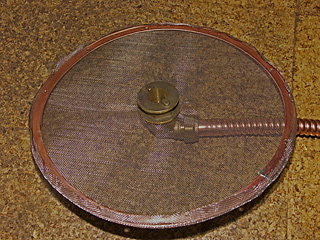 AS you can see from the last image you fit the stainless mesh to the copper disc by just folding over the edge . . try not to cut yourself . . . Once you have attached each piece of mesh to its own disc you then fit them together using 3mm button headed bolts and washers.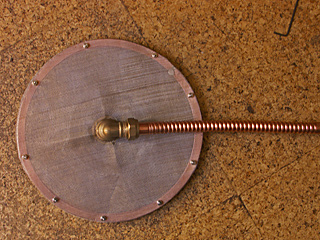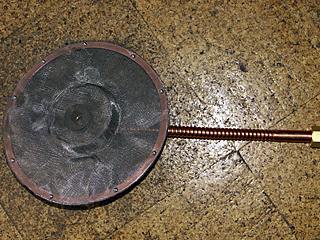 And finally fit it in place . . . and use the easy bend tube to get the hop stopper right down on the base of the boiler.
The benefit of this one over my older hop stopper where the mesh was folded over and crimped together is that this can be taken apart to clean if anything gets stuck inside.
Discussions about this can be found